Future Thinkin
Introduce yourselves...
"How long have you got!! The main organisation behind F.T. is handled by the "Inner Circle" (for want of a better name!) Me (Shylo MC), DM C.U.T, Danny Exile and MC System, but the entire crew is made up of 9 DJ's and 3 vocalists/MC's. So, apart from the Inner Circle we have D'Zine, Bella DJ, Diverse & Funk-Shun, Forte, Miggz, Bandwydth & Vocalist I-ONE.
How did you get the name Future Thinkin?
Thought up by one of the founder members, means so many things to so many people. To us, it sums up our outlook on the music and towards each other. "It's just how we live"...
How did the crew first get together?
Started with 3 lifelong D&B headz sitting in a park in Tottenham on a sunny day in 1997 discussing the state of the scene and lack of opportunity for new talent. These three plus one other went out and grabbed the people we felt weren't getting the level of exposure their talent deserved and offered them a platform to perform, namely our first event CONCEPT.
What radio stations have you been on before doing the quality Sunday night sessions on Rude 88.2 FM in London? and which stations are you on now?
Aside from the Rude shows, we're on Origin FM 95.2 every Sunday & Monday 8-10, have guest shows on DrumnBassworldwide.com, LifeFM and a few other internet stations lined up.
What other countries have the crew played in?
F.T. DJ's have played in Germany, France, Scotland, Wales, Ireland, Poland and have a return to Poland and a debut in Athens lined-up in 2k4.
What was it like playing at what was possibly the first Drum & Bass / pole-dancing event?
An experience to say the least!! We're just happy that Chi-Qui wanted us to take part in the event and we're looking forward to the next one!
How did DM CUT get involved in the ITV programme The Joy Of Decks?
DM C.U.T. was nominated by the record shop Vinyl Addiction in Camden, he then had to battle with 300 other nominees to make it to the final 4.
Is there going to be a collaboration with the Full Cycle crew as a result of that programme?
We're hopeful that some kinda joint project will come out of the show but Full Cycle have a VERY busy schedule..."



Stream: Rude FM, Origin FM, Life FM...

LTJ Bukem
The Good Looking Organisation
Were you on any pirate radio stations before you were on London's Kiss 100 FM?
"Only friends' stations run out of bedrooms and top floor flats.
Which countries do you enjoy touring and why?
I enjoy playing - full stop, so as long as the equipment allows me to play I enjoy it... that could be anywhere in the world.
What was the first rave you went to (as a raver not to DJ) and what was it like?
I suppose all the Rapattack parties back in 83/4 were my first experiences of raves. Alistair would play anything from Soul to Jazz, Ragga and beyond, and mix them in a way that made me decide properly to try and become a DJ.
What were you doing before DJing/producing?
Normal jobs - chef for a few years, anything that would give me a piece of money to buy a few records, because that's all I used to spend the money on.
What made you get into this industry?
Combination of a few things, my piano teacher Nigel Crouch, my obsession with music, life, the mix.
What's the craziest thing that's happened playing in a club?
I played in the wrong one and didn't realise for a while.
Which was the worst night you've had DJing?
Plenty of those, the sound is rubbish, no soundman, decks are jumping, you can't tune your ear to the mix and play crap, no people, it happens to everyone, makes you always remember where you came from.
Let's go back exactly 10 years - 1993 - what is the first tune that comes to your mind?
Has to be Music I suppose, that's when I made the track.
Are you working on any tracks or an album right now?
Not at present, a lot of touring and label responsibilities, maybe soon, mind you it took me 10 years to right the first one!
What have you got planned for the future, for the Good Looking Organisation?
Releasing the wide spectrum of music we do, try and progress the different labels we have in the different genres... check the web for forthcoming releases www.glo.uk.com
Can we catch the GLO anywhere on TV or radio?
Our music gets on a few commercials and different programmes, but our own show - no.
Favourite game on the PS2/XBox...?
I haven't played for years.
Anything else you would like to say to the solidPulse.net visitors?
I feel so privileged to have been doing the label for 13 years and DJ'ed for 17 years to so many good people, and I want to say thank you to all those people who have supported my DJ sets and GLO."

Good Looking Organisation, 84 Queens Road, Watford, Hertfordshire, WD17 2LA, UK.
Progression Sessions at The End every second Friday of the month
Cookin' at The Bridge And Tunnel every last Saturday of the month

The Unusual Suspects
@ Y2K FM and Itch FM, London
Introduce yourselves...
Leonardo, Sparks, Double R, DJ Mania.
What stations were you on before Y2K FM and Itch FM?
KiK FM, Mission FM (now known as Y2K).
Do you DJ regular on Itch FM?
Yes, once a week on Sundays 8-11pm, but we trying to cut that to two hours because of gigs on Sundays.
What's the best thing about playing on radio?
The reactions from people when they feel a tune, radio's a good testing ground
Which clubs have you played at?
Oh my god, loads... Oceans, Bagleys, Time And Envy, Cameo's, Propagandas, Sanctuary Milton Keynes etc...
Do you produce your own tunes?
Yes we produce, Sparks and Leonardo are in a UK hip hop outfit called The Bury Crew, and we also produce beats and tracks for various labels and Vault Recordings.
What tunes you banging out right now in your motor / at home?
Going through an Old Skool stage, Lauryn Hill - Miseducation is banging and also the new DJ Clue mixtape and of course 50 Cent!
What are you upto when you're not on the radio?
Chill out, quality time with wifeys, work with artists, planning raves, erm... loads really.
How has the Hip Hop scene in London changed over the years you've been DJ'ing?
Yeah, it's now become more widespread and accepted. Before, there was a certain stigma attached to it, think it could be down to how UK Garage has taken off aswell, it brought the hip hop mc's through, there's now more girls at these raves and that is always a good thing, so less trouble and more vibes.
Message to the solidPulse.net viewers?
Always strive for what you believe in, and like Nas said: You can do anything you want, when you're ready to do it... Believe in self... Because you're all great.
Street Politiks
By Diane Thomas and Vanessa T (AKA Lady Bubbles). An S.L.J. Production ©

Who is in the group and where did the name Street Politiks derive from?
Charms: "Street Politiks includes three male singers, a female singer, and two rappers (the founders). M-Triple and I met up in Long Island at a music festival.
M-Triple: I was doing a football scholarship at the time.
Charms: I was always out there (NY/Long Island)
Charms: We met 'Korus' through our producer on a track that we were doing. These are the initial six people you will see from Street Politiks first and foremost but we have more in-house artists.
M-Triple: What we're trying to do with the music is make music from the streets. We are making music for everybody.
Why are there six of you? Are you trying to emulate the success of other crews such as So Solid?
M-Triple: We got two other dj's, a producer - Mac 1, etc. It's trying to keep as much stuff as in-house as possible. If you take Roc-A-Fella and Bad Boy and they're not trying to be one or the other, they're setting themselves to be as internal as possible. They have the capability of producing their own music, they got their own artists, their own producers. In theory for us we won't have to outsource because we have everything coming through in-house. So what So Solid did there is a great thing, they've shown it can be done in this country as well. Although they get the bad press and stigma and that, but basically they got producers, dj's, artists 'in the house'. So realistically if they wanted to do everything themselves they could do everything themselves, and give the full finished article.
Charms: It boils more down to creative control over your product and that's what we're in favour of.
So do you all write your own material?
M-Triple: Yeah, we all write all our own songs. We work to a certain concept. It would be blind for us two to go ahead and say it's going to be written this way or that way, because our three singers have been singers for years as well as Sian. It brings the flavour together and we all have an input into the material.
You mentioned Roc-A-Fella and Bad Boy, so do you want to set up your own label as well?
Both (in unison): Yeah
Charms: That is one of our long-term goals, that's what we'll like to do, but right now I don't think it's viable, like territorially in the industry, so we have to come through more first.
M-Triple: We are at the stage where we are crawling on the path and you can't run before you walk. So we've got to get up to walking on the path before we can aspire to running, running our own label and being able to dictate and demand. By winning that award what it is, is laying foundations for us to move off of in the future, so that's the bigger picture for the long term.
What was it like performing in the US?
Charms: It was hot! That was where it all started, it was similar to what we got over here with the Starlight Vibe in Sound Republic doing showcases of up and coming talent.
How were the US audience, did they take to you?
Charms: Well I knew most of the people *Charms says with laughter*, it's like on the block, in a local part, there were basketball competitions going on and a barbecue. De La Soul was there, Keith Murray was there, every year it goes on.
M-Triple: With regards the US we've done tracks out there but haven't performed anything as Street Politiks. But it was good we had dj's from radio stations and our track 'Envy' was featured on Tim Westwood's album. But like we said everything that's happened is grounded.
How was it supporting JOE and 112?
Both: It was wicked. It was really good.
Was it daunting to know that the audience came to see the big acts and you're just a supporting act?
Charms: You know in the back of your mind they come to support Joe, but that's not a problem coz it's his time. We go out there and we make the best of the situation.
M-Triple: The experience itself is great. We did accapella's as well as our track 'Get down'.
So is there anything that you've learnt from them?
M-Triple: Take your top off and girls will scream!
Charms: When the whole place is singing your song, and you can sit back and listen, that's when you've done it, that's what they did with Joe.
M-Triple: And with people like Joe, he has immense presence, when he comes out he's like ten feet tall because he's got so much confidence and assurance, and the crowd love to see that.
What contributions do you want to bring to music?
Charms: I say we'd like to bring a greater awareness to what's going on in the UK, in terms of Hip Hop and RnB. We do want to bring it to the forefront of the market and want it to be more accepted. We do want to cross over to the States and in Europe as well.
M-Triple: Fundamentally music is for enjoyment, and we want people to enjoy it first then think about the subliminal messages.
Do you think 'black' music as it is now, portrays a negative stereotype for black people?
M-Triple: Nah, black music is so vast, they are in Rock, Pop, RnB, and Hip Hop, there are positive and negative in all types of music. We draw on the positives from it.
Who have you looked up to throughout your careers so far?
Charms: Tupac, Biggie, Jay-Z, Nas, Stevie Wonder. There are so many people, we all aspire to different people, but they have all been strong prominent people that have taken the music to another level.
With all the touring and performing you're doing, don't you get tired and feel like you don't want to get out of your bed?
M-Triple: I feel like that everyday though!
Charms: That's what it's all about making our music and performing it. We don't like the drives in-between though.
Are you setting your goals too high?
Both: Nah, you got to aim for the stars and you'll reach the sky.
M-Triple: You've got to go for the best, you can only aspire to what is possible.
Charms: There's room for everybody in this industry.
So when are you planning your first release?
Both: Early next year. We're working, doing PA's and shows all over at the moment.
Any words of wisdom for other aspiring artists out there?
Both: 'A pound and a promise'.
Charms: People believe you've got to spend a lot of money to get to certain places. You don't have to conform yourself to other artists. There's room for everyone. No need for short cutting.
Both: Keep supporting each other. All it will do is strength the whole industry."
check out www.streetpolitiks.com

dj Excel
@ Ice FM, London
Who's your favourite DJ's and producers?
"DJ's EZ, Karl 'Tuff Enuff' Brown... Producers Todd Edwards, Wookie, Masters At Work, Sticky plus many more.
What was the first rave you went to?
Happy Days at the Paradise Club way back in 1993. It was a Hardcore / Drum N Bass night. I was 14 and trying to get into an over 19's event! I remember only just getting in after getting asked for ID. But it was well worth it, inside there was pure vibes. One of my best all time raves.
And what about your first ever DJ booking?
At a club called HQ's in Camden. Can't remember the promotion, as it was so long ago.
What's your all time favourite tune?
It's hard to name one because there's so many but it would have to be out of Unfinished Sympathy - Massive Attack, Tears - Frankie Knuckles and Music - LTJ Bukem.
What you pumping out in the car at the moment?
Doller Sign - Lady Stush - Sticky Mix, Enter The Tekken - F.OFF Productions Dubplate, Stature Of Liberty - Elephant Man, B-Live, Jokkie Mundo & Major Ace - 4 Liberty Dubplate, also a rough Funky House tape.
How did you get into DJ'ing and producing?
I was a lover of music from an earlier age. Through listening to the early hardcore pirates such as Weekend Rush, Pulse and Kool FM, I loved the tunes and was obsessed with how DJ's mixed tunes together. I used to try and teach myself by using one deck and trying to get it in time with a tune that was being played on radio. I saved up for my first pair of decks (Soundlabs) and mastered them fairly quickly. Realising I couldn't go much further with these decks I sold them and got a pair of Technics 1210s. It was a natural progression.
My productions have come only recently. DJ'ing and production work hand in hand.
When was the first time you played on radio?
Back in 1997 on a station called Gold FM. The station never took off so got myself a slot on Chicago FM 90.6 (for those that remember). I was on Chicago for a little while before moving to Freek 101.8 FM.
How did you get on Ice FM?
Well before Ice FM I used to play on its sister station Mac FM 92.7, the two stations decided to merge so that's how I got on it. I've been on a few stations as you can see but I love Ice and there's no other pirate I would rather be on.
Have you ever played on any internet radio stations?
I haven't, but would like to.
What do you prefer, DJ'ing in clubs or on radio?
Both, but if I was forced to choose I would probably say in clubs because of the immediate reaction you get from a live crowd. I love radio because of the whole interaction with listeners on the phone line. You build up your regulars and it's a wicked vibe. It's also an outlet for my productions and breaking new tunes.
What made you move to Garage from Drum & Bass?
After the peak of Jungle, the music took a change of direction that I wasn't really feeling. I'd always listened to a little garage when I was mixing and buying Jungle / Drum N Bass, but when the music changed, the raw underground vibe of garage just took me.
What direction do you think Garage will be going now?
It's always changing. Four To The Floor is being produced a lot more in the scene which is a good thing but I hope the quality is maintained. Then you got the producers making the harder garage beats.
What other music do you listen to?
US Garage / Funky House, R'n'B and Drum N Bass. I've got an open mind for music.
Tell us about your label and releases?
The label's Face Off Recordings. I run it along with 4 others. We recently did the Face Off 5 EP which did quite well. We've got the next one in the pipeline so watch this space! We always try and put three different tracks on the EP's e.g. 2 Step, 4 To The Floor, etc.
Who would you like to work with?
An amazing vocalist like India is one that comes to mind.
What have you got planned for the future?
Setting up a brand new label for original material and also starting up an industry night. Plus other projects which I can't mention right now!
Thanks to all the DJ's, promoters, producers, record labels and distribution companies who have supported me over the years. Too many names to mention individually. Don't forget to catch me every Sunday 8-10pm on London's leading Ice 88.4 FM for Old Skool / New Skool and loads of exclusives! Last but not least respect to all the solidPulse.net massive!"
Apache Indian
How and when did you get involved in Reggae?
"I got involved with reggae at a very early age. It was the music for me from the age of 12. I got involved professionally at the age of 18.
What music were you listening to as a youth?
I listened to a lot of roots reggae from Jam.... Bob Marley... Dennis Brown.... Burning Spear.... Sly And Robbie..... reggae sound tapes from Jam.
Most Asian parents want their children to be doctors, etc. What about your parents?
My parents are different, no pressures, just do what we have to, but always with respect to them, no drugs, no police record. I loved school, so they always supported what we did, I love them dearly.
What were you doing before you became "Apache Indian"?
I was a welder for 6 years.
When and where was your first performance?
Back in 1989 in Birmingham..... great gig!
You haven't been in the mainstream lately, could you tell us about what you've been working on recently?
I have kept away from the charts, new stuff is more reggae, working with artists like Luciano etc. I am just doing my own thing, just finished recording a new track with UB40, great song! Just released a new single in the USA called 'Throw Your Hands Up'. Always busy with some project or another.
What's your presence like overseas?
There is a great presence around the world, people know me and what I represent. I have just spent one month in India, one month in USA, Australia and I am just back from Kenya. Reggae will always be popular for those that love it. India follows the commercial reggae in the charts, if it's not in the charts then it is still available if you want it.
What's playing in your car right now?
I am currently listening to some African music that I picked up from Mombassa.
Big respect to all, I hope this new year brings good spirits for everyone. I have nothing to plug except for good wishes and kindness to all people."
Flex FM

PureSex @ Flex FM, London When Flex started, did you even think you would be reaching listeners worldwide?
"No, but would anyone back then? Like 9 years ago!
What made you want to take Flex international? Because not only is it 'Shout to the Sutton crew', but now it's also 'Shout to the Boston crew locked on!'
It was about time too, it was time to take it one step further. Broadcasting across London on the FM dial and live on the Internet, with six live streams catering for everyone's modem speed needs. As no other pirate station has succeeded in doing this so far, we wanted to set the new standard for pirate radio in the year 2001. With the live shouts page on our website that allows Internet users to send in shouts/requests for free - direct to the studio, the overall idea of being live on the net has taken off to be a massive success. Now watch all the other pirates follow. But remember who was there first :)
A couple of stations have been in the press because they were interfering with nearby residents' TV signals! Has Flex ever been in the local newspapers?
Not as yet, and hope not to be, as we use the very best in radio broadcasting equipment.
What's this RawFlex business about? Have RawMission merged with Flex?
Not yet - we ran an event together this month down at the Gass club, but check out our website for more information.
What do you think the future is for London pirates? Because there is absolutely no room left on the FM dial for anymore pirates.
It's always been like this for years, the larger station will always stay there, you will just get the smaller ones coming on and off the dial all the time, this is what fills up the airwaves. But the future will be the internet - as in 5 years or so time, everyone will be connected at high speed 24/7 to it, including wireless internet devices.
Has anyone ever tried to steal your frequency? or even your equipment?
Yes, but can't comment on that one.

Big up all the people involved on www.flexfm.net and all the FLEX 103.6 FM family keeping it alive!!!"

Dice DJ
FlavaForce
When did you start DJ'ing, and when was the first time you played on radio?
"I started dj'ing in 1995 and the first time I played on radio was on a station called LOVE FM 95.2 in late 1997, before me and some friends of mine setup a station in late 1998 called LIVE FM 107.8. Then in March 1999 I joined LUSH FM for 18 months before joining TOUCHDOWN FM 89.6 in September of last year. I have been on Touchdown recently, however with constant battles between pirate stations, they have had troubles on air. In March of this year I joined FREEK FM, briefly playing out for them and doing late night radio shows before joining RAWMISSION 90.0 FM in June of this year where I am currently doing Tuesday nights 10pm-12am, and also 4-6pm midweek show on FREEK FM to be confirmed.
What about your first time in front of a crowd, what was that like?
The first time I played in front of a crowd was at a Bigga Fish event in early 1999 and I was very nervous but had encouraging support from friends and the ravers on the night. Every time I play out in a club I always learn something new about dj'ing - when I talk about dj'ing I am not talking about quartz lock mixing or having the latest dubplates that aren't coming out for years, but I'm talking about awareness, anticipation and judgement - these are skills that no one can teach you apart from yourself.
Have you always been into House & Garage or were you into Drum & Bass / Jungle before?
I first started dj'ing in 1995 mixing Drum & Bass.
When did you make the move to Garage?
In 1997 I started to collect some House & Garage classics for the musical library, then before I knew it I was hooked. Another factor in my change was the fact that to be an up & coming DJ in the Drum & Bass scene at that time was like selling ice to Eskimos - not easy, and I guess I needed something else to test my skills as a DJ.
Have you been in the studio to make any tracks?
I have been in the studio throwing ideas around but little else at the moment, but watch this space as I should have some tracks out before 2002.
Are you planning to set up your own label?
One of my MC's has just started a label L.D. Cats Records which is doing really well on the underground scene at the moment, as for myself I aim to set up a label early next year aimed towards the four-floor sound.
What clubs do you play out at?
I am a resident at SUBTERANIA. Others include EDGWARE FC, Q BAR, Z BAR, GASS CLUB, PEPPERS (Watford), TIME BAR, STAGES (Chesham), HQ's + more.
What's your weirdest experience you've had playing out in a club?
The weirdest experience I have had whilst playing out is finishing my set at Stages in Chesham. Outside the club no cab station in sight, train station closed for the night and looking for a mini cab that would take five people to London? - no chance. So anyway I meet one of the locals (some geezer called Matthew) who knows all the mini cabs around the area but yet no joy in finding a way home. Convinced that we were staying the night in the train station, we were set to make the walk to the station when Matthew said 'you lot are alright you can stay at mine until the morning' it was like god was watching us that night. It all ended up good, we were up until early hours talking about the club night and before we knew it the time was 7:00am and it was time to get back to the city, and that's the weirdest experience.
And what about on radio?
The weirdest experience I have had playing on radio is when I done a 6 hour mix-a-thon on Touchdown FM in October 2000.
Which producers are you feeling at the moment?
The producers I am feeling at the moment are Jameson, Sticky, Black Ops, Zinc, Sovereign, Wesley J.
What do you listen to when you're chillin at home?
When I'm at home chilling out I like to listen to Drum & Bass, Old Skool Garage and RnB.
Garage is currently heading in a breakbeat direction, do you think that the sound of Garage should go back to the bouncy 4 to the floor style? Because in most your sets you include a few of these classic tunes (for the connoisseurs).
I think the different styles of Garage music that emerges through the scene can only make the scene better as it caters for a wider audience, plus there is more room for up & coming producers & DJ's with alternate flavas. On the other hand my personal love for the music comes from the 4x4 sound and I am happy to welcome different styles of Garage music as long as the original four to the floor style is not forgotten.
How did you get the name Dice?
When I came out of Drum & Bass and into Garage I felt I needed a name that would describe my style of music and mixing, and I guess Dice was it. It described not only my style of music and mixing but also described my personality which is unpredictable and unexpected.
Which tune stands out to remind you of when you started DJ'ing?
The one tune that stands out to remind me of when I started dj'ing is "On That Dust" by DJ Hype on Ganja Records, that was the first record I bought in 1995 (before I even had turntables).
Shouts to my Mum, Excalibur (FlavaForce), Black Ops Movement, Vince @ Bassline Records, Doug Cooper @ 4 Liberty, Angel-T @ Relentless, Essie @ Ice Cold/Stallion, all the record labels, DJ's, MC's, pirate stations and you lot, all the listeners and ravers supporting Dice DJ, watch this space."
MC J Swif
Mi5
How did you get into Drum & Bass MC'ing?
"Back when I was in school, I already knew Jnr Buzz and Bizza, when they were practising mixing I used to just pick up the mic and say a couple of lyrics, it just came naturally I guess.
Then when did the rest of the crew get together?
Well myself and Junior Buzz, Bizza and O.D. have known each other since school days, SLB and Skinz we met through the internet radio scene, we moved in the same circles and played on the same station (interFACE) we all just found that each of us have different qualities that benefit us all that's why we work so well together.
How did you get on Abyss / InterFACE / UK Rumble?
I was originally on Hart FM 90.4 which later changed to Face FM and then went on the internet and is now known as interFACE. The management from UK Rumble and Abyss FM heard about us through interFACE.
What's different in your lives now, since you started out?
Well we've been doing it for so long now it IS part of our lives so it seems like nothings changed. Honestly being on the radio, internet, stage or in the studio is just part of everyday life now, we just love it more and more.
What about your label?
Yes we are currently in the studio working on both Garage and Drum & Bass tracks so watch this space for forthcoming Mi5 releases. I don't want to give too much away but our stuff is a lot different from anything you will have heard before but definitely for the ravers.
What do you think of the current Garage scene that's taken over the clubs and radio?
Well I like Garage as much as I like Drum & Bass personally and there is some good music, I just think it's a shame that some people in the Garage scene try to portray a certain image that isn't true e.g. All the Designer wear and champs, it's not about that it's about music.
At the moment, the FM band in London is full of Garage stations, although, slowly but surely we're starting to hear more Drum & Bass on radio again, but do you think there will be more Drum & Bass stations than Garage - like it was back in 1994/95?
I definitely think there will more Drum & Bass stations emerging in the near future. A lot more people are going back to the Drum & Bass scene slowly but surely so I think yes, if not more Drum & Bass stations there will be more stations like Abyss FM which play Drum & Bass / Old Skool on Friday / Saturday and Garage on Sunday.
Or is internet radio the future for Drum & Bass, especially now the government said they are going to 'switch off' analogue FM signals after some few years?
Yes definitely as the government are going to switch off analogue signals but also the quality of the sounds the listeners is getting is a lot better and also the DJ's/MC's can feel more relaxed because the risk of having your equipment taken by the DTI is gone.
In your experience, what do you prefer performing on: FM radio, internet or in clubs?
Love it! I love it all but if I had to say, I like the club best because you get an instant reaction from the crowd and feeling you get being up there doing your thing for all the people, I just can't explain it. But I also love being on the radio and internet stations.
Best thing of the year 2000?
Playing at Fabric definitely, the vibe in that club is just unbelievable.
Shouts to SLB, Adam F, J Magik, Swift, Grooverider oh and Francis the steward joker! Thanks to solidPulse, Kurtis, Mad Ash, Jag, Alx, Patch, Sleepa, Arceye, K.O. and most of all, all the listeners of UK Rumble, Abyss FM and interFACE, oh and all the people that said we couldn't do what we are now doing, thank you because it pushes us harder to succeed, and kiss my ass. Later."
Mi5 consists of J Swif, Jnr Buzz, SLB, Skinz, Bizza and O.D.

Fredi Kruga
Un4Given Entertainmentz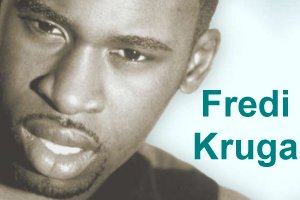 How did you get involved in Hip Hop?
I have always been into Hip Hop from way back in the days when I used to body pop and break dance. Then I got into body-guarding and security and found myself working alongside a lot of the artists that I actually admired. I guess from there, everything just came naturally.
Where/when was your first ever performance as Fredi Kruga?
WHOAH! I guess it's got to be at a club now known as Club EQ (it used to be called Shenola's back in the day) about........ say about 10 or 12 years ago.
Describe your style
I like to think of my style as a complete fusion of Ragga and Hip Hop thus forming Ragga Hip Hop..... at least that's what I call it anyway. I have three characters within myself, FREDI KRUGA is the Ragga element, HARVEY II FACE is the Hip Hop element and JOHN DOE is the element which allows them both to merge.
Where/who do you get your influences from?
My influences are forever changing but I guess the core ones come from everyday living here in urban London and I guess also from the great deal of time that I have spent in the U.S. Musically, I have been influenced by Rakim, DMX, NIRVANA, BOUNTY KILLER, SCARE DEM CREW and of course my brother FIDEL.
What made you want to do a track with Choice FM's Bruv Da Geeza?
Me and Bruv have always been good mates. That track wasn't really recorded as a song but more as a little joke or gimmick for Bruv to play on his show. We are going to be working on a track for my album though. I also used to do security for Choice FM so of course the hook up was easy anyway.
What was it like working with him, and is that track gonna be released?
A lot of people keep on asking that and it might be...... but it will have to be restructured along with some more underground orientated mixes. Working with him is a laugh. Bruv is a real character and has a lot of great projects in the making. He's also very down to earth and nothing like the character you hear on Choice but then don't tell him that I said that!
London's feeling the Hip Hop vibe, is other parts of the UK also feeling Hip Hop?
Most of the major cities in England have a Hip Hop culture of some sort. Birmingham, Manchester love the vibe and places like Dublin are Hip Hop mad!
Have you got your own label?
I have set up my own label which is called UN4GIVEN ENTERTAINMENTZ (KAI RECORDZ). It's all about 'doing 4 self' and creating your own empire. Any young budding artists can send a demo to me and I promise to check it out. Contact Mr FRANCIS on 020 8800 6321 for a postal address.
Have you performed abroad?
I have done numerous shows in the U.S. and performed alongside artists such as Jagged Edge, Cappadona, P.O.V, Capelton just to name a few. I have performed at FREANIK in Atlanta and also SPRING BREAK at Daytona beach.
How do the people react to your English accent rapping?
I have blown up a number of spots and I think they take to my style very well because it has a strong Ragga influence incorporated into it. The U.S. has a massive West Indian culture so I go down real well out there.
Most U.S. Hip Hop music videos show women in tiny bikinis, what do you look for in a lady?
Her brain. All women have similar body parts but her brain is unique. I like a woman that can have a decent intelligent conversation because that makes her all that much sexier............. the breasts! (HA HA!)
Thanx for all the support that you guys have given me. The new single CARZ is in the stores now..... go buy it..... please! Oh YEAH...... check out the web site at www.un4given.co.uk PEACE!
57th Dynasty
Fas Fwd Entertainments
Let's take it back to day one, how did you start off 57th, how did you all meet up, and what made you do it?
The story began before 57th - really, you need to go back to the 80s to get a true understanding of how the whole thing could come together. England, at street level, was run by reggae. There was a decent reggae industry where man could record and put out tune and make a change. You had groups like Aswad, Steel Pulse, who put England on the map in terms of street/black music. You had a thriving sound system scene, lead by sounds like Sir Coxsone, Saxon Studio and regular visits by Jamaican (and later) American sounds. All 8 members of the (future) Dynasty grew through this time: some were involved in what was going on, some were too young but were still influenced by it.
Out of this environment, around the late 80s, Charlie Parker started running an informal studio and developed his production technique (at that time making reggae and hiphop beats) and thru the word of mouth artistes local to the area (Brixton, Stockwell etc) started coming thru. Charlie started the label - Fas Fwd Entertainments - to put out tunes on as there didn't seem to be any interest coming from the UK industry to help with this - they were focused on house, drum n bass and pop. So, the DIY Ethic was born (actually, it was just a continuation of what man did back in the days - all the reggae mans were used to doing things this way which is why it is important to understand where the roots of Fas Fwd/57th are - being "self sufficient" isn't "amazing" or "admirable" like people say, its just obvious).
So into this stepped Paradise - just come in from the US, he showed an energy and commitment that was so far lacking and it became clear that sh*t could really kick off now. Charlie and Dise recorded a track - M.O.N.E.Y. - and released it as a 12". It reached critical acclaim immediately.
Meanwhile, mans had been politicking and already spreading the word... Dise was getting a shape up in a barbers and talking to the brothers in there he discovered a family of rappers and deejays. The family turned out to be 4 brothers and two friends who had skills and came through the studio to demonstrate and develop.
To cut a long story short it turned out that these next 7 youths to come through the Fas Fwd studio, all of whom were either family or friends, produced 4 more core members, who were/are - The Juvanile Ruckasz (comprising of Dark Troopa aka The Jedi Knight, 50/50 the lyrical assassin aka Middleman and the youngest Dynasty member Lil Monsta aka Lil Big Man) and one of their elder brothers, the ragga chatting Ashanti man - Thundastorm.
So the Dynasty was growing: the Fas Fwd family already comprised of more than 12 members and was growing throughout the area (Brixton) by association, but The Dynasty still had one more core member to get and still didn't have its name.
Mr Green, one of the early Fas Fwd artistes, one day brought thru a brother he knew from Bristol, name Oshin; Oshin mentioned that he was looking to hook up with a hiphop crew and he had the credentials, bringing an essential resource to the Dynasty aside from lyrical skills. Oshin was/is the original Nomad/country man. Through his regular travels he has managed to transport Fas Fwd/Dynasty product far and wide across the UK as well as foreign. So Oshin the Nomad became the final member and the crew (called Dynasty because of the vision of being an extended family) took its name after the number on the studio door - 57.
When and where was your first ever performance and what was the experience like?
Monsta: It was at Dingwalls (Camden). It was a good experience but we were kinda tatty and wasn't really sure what eachother was doing on stage. But the crowd reaction to us has always been good so that helped a lot at the start to keep us confident.
Is UK Hip Hop finally getting through? getting the recognition it deserves?
Charlie: Don't know if it "deserves" recognition or not and I'm not sure what can be classed as "getting thru". One thing about this country (especially this country) - deserts aint got nothing to do with nothing - you don't get what you deserve, it takes more than that. Shits getting better tho (especially production), but for the UK its got to excel rather than just be good because the market is already flooded with English speaking hip hop that people consider to be the standard. An infrastructure is getting in place as far as a UK hip hop industry goes, and its reassuring to see events like UK Hiphop Awards going on and being quite successful. So I guess it is getting somewhere, and it is getting recognition. But it's always had recognition - through the years you had - Derek B, Mello, MC Duke, Cookie Crew, Definition Of Sound, Double Trouble, MC D, London Posse... It's not like these guys didn't get recognition. What they didn't get, mostly, was hit records and a record company behind them that understood that hip hop (of whatever style) is not pop music and needs to be handled with a different strategy. That's one of the reasons why none of those guys really prospered. Another reason is that people in England are damn mean. There's no culture of money making money at street level. Man spends his time getting money and then keeps it or spends it. The way to build up anything is to invest money, you know, put it down and don't trouble it and then you will see something start to grow - there is man out there with money but nobody don't seem to want to put it down in the music biz. Why? That starts off another argument that's too long for now...
There's not really a platform for UK Hip Hop, has the internet helped promote it in any way?
Paradise: There wasn't a platform for UK Garage either, until tunes started selling and getting play in clubs, all of a sudden a million pirate stations started and things went upwards from there, and garage found its platform. The internet definitely helps; we have a good relationship with PeopleSound that helps us with promotion - that's mainly where the net can help - promotion. It enables heads around the globe to find you (even by accident) when before they couldn't. That's cool...
In order for UK Hip Hop to get mainstream airplay on the major radio stations, do you think it has to be 'watered down' or is it possible to keep pushing the raw underground UK Hip Hop and get it played on daytime radio?
Mainstream airplay is to do with money. If something has the right money behind it and there's demand (even sometimes without demand) it will get mainstream airplay.
Also, there's a lot of pirate radio stations in London that play non-stop Garage, but only a few stations have a couple of hours a week for hip hop. There should be a pirate that plays non-stop Hip Hop all day, why do you think there isn't one yet?
I don't think there will be a pirate dedicated exclusively to hip hop ever. Even Hot 97 in NY has a few ragga/reggae shows on it. If there will be a hip hop/ragga station? When UK hip hop is strong enough to stand on its own (which by the way I don't think it is yet)
What are your future plans?
Juvanile Ruckasz: Continue education and use all the knowledge we are learning and have learned over the past four years to help guide our bredrens, pass on knowledge to the youths and stop them from going down the wrong paths and improve our own talents and techniques.
Paradise: To continue work in the community and further my involvement in the music industry, possibly working with and guiding upcoming talent.
Thunda: To record in Jamaica and release tunes aimed specifically at the Dancehall market, and help rebuild the British ragga scene.
Shineye: To produce tunes in Jamaica - already started that! - And be a cornerstone in the rebuilding of the British ragga scene.
Oshin: To continue to travel and learn more about the music business.
Charlie Parker: To continue to build Fas Fwd Entertainments and achieve status as a leading UK Urban recording label - continue to travel and spread the love that has helped build the Dynasty and Fas Fwd through the needing parts of the world.
All: To take 57th to the top...
What's playing in your car at the moment?
Charlie: Mostly Dynasty shit and my own beats. But other than that - Adenail (soundclash tape), hip hop mixtapes & old Wu & Mobb Deep.
Paradise: Still listening to Sizzla & old shit like the MOBB and some country/down south shit
Thunda: Ragga tapes & slow jams
Juvanile: Whatevers going on - mix tapes, ragga tapes etc... Actually looking a new set for the car...
Anything else you wanna say to the solidPulse visitors?
Yeh - if you're looking at solidPulse the next move you need to make, when you're finished, is to haul your a**e over to
fasfwd.com
and check us out in further detail! Look out for the single GHETTO GOLD/HOLD STRONG dropping on promo NOW (DJs call us for promos) and officially hitting stores in March 2001. And following that, the album, the long awaited follow up to SPOKEN WORD - the Dynasty's "sophomore" work - D.I.Y. Ethic, releasing around May 2001.
Love to each and everyone... 57th.
Para and Perry
D.E.A. / M.S.B.
Lady Z asks twenty questions

How long have you both known each other?
Para: About 10 years now! Since school.
Perry: We grew up in the same area.
Para: Since Perry was little Perry!
Why the name PARA? Are you a paranoid person?
YEAH! Paranoid and Paralytic!
Perry? What does M.S.B. stand for?
Music. Sounding. Better. And it sure does!
Para? How many 'Dub Enforcement Agents' are there? What qualities do you need to become an agent?
There are three main 'Dub Enforcement Agents', Myself, R. Lally and Lloyd-E. There are other subsidiary agents that support the cause, play the tunes, wear the T-shirts, and socialise with us, basically promoting D.E.A. to the full.
What is the D.E.A. project?
The project is Future Music. Creating different sounds, something unique, not the same old general bulls**t.
Perry? House and G or D 'n' B?
D 'n' B for love. House and G for cash!
Para? Classic Tracks?
That 'Abstract' tune (Para begins to sing) "We had a thing going on, and sometimes **** just for fun, and its real good, and its real good"! And a track called 'Over You' (starts singing again) "Over you I'm over you dar da da de" That's a classic track too! And that's it!
When were your first DJ bookings and do you still have the flyers?
Para: '97 man! I've got ALL my flyers.
Perry: August '98 yeah I've still got the flyer 'The Younger Clarkie'!
Perry? What has happened to 'THE 2 DARK CLARK'? Why choose against playing out?
'2 Dark Clark' is now M.S.B. Productions! I have always been inspired by my DJ brother (DJ Clarkie - Blackmarket Records), I guess that's how it all begun? I used to play out at various Drum 'n' Bass doos, although I never really wanted to make it as a DJ, I've always loved mixing. Still, I had plans to produce, and about two years ago I decided that I wanted my own label. I am now spending my time with the day-to-day running of M.S.B. and of course working with people like Para, producing phat tracks!
Para? I want to know what persuaded you to go back to Upfront FM?
I had a few disagreements with The Management at Upfront FM, but it's all water under the bridge now. I knew the Upfront boss before Upfront FM begun, so holding a grudge was more than pointless, we're friends. The scene is far too small for grudges. PLUS I was in 'Napa, the Upfront boys were out there, and I decided from then it was time to Grace London Town!
The track 'DJ Para - Shadow Boxing' on MSB? Does 'Doc Scott' know about your 'Nasty Habits'?
Nasty habits? No, Doc Scott doesn't know as far as WE know? Although, Drum 'n' Bass, and Garage are two totally different genres of music. 'Shadow Boxing', is a tune with a popular sample from a Japanese film, anyone can have it! You can have it Z!
'Para-Normal Phenomena' is on a REACT compilation; Matt 'Jam' Lamont presents The Jam Experience. How do you feel about DJ's such as Mr. Lamont using your tune for such a big project?
Para: It's great man! I used to idolise Matt Lamont and now he's playing one of my tunes. Its blinding, plus Matt is a wicked geezer, have you heard his new tune? Boy it's bad.
Perry: Yeah it feels good. It's the second track to be released on MSB and it's on a big project so early on in the life of MSB. Yeah it most definitely feels good.
Para? 'Music Is My Life'? And 'Circles of my Life'? Whose life is this?
Not mine mate! It's Destruction and Madd-B's life, in Bromley pubs. Ha ha! Destruction and Madd-B put the lyrics together and I made the tune. As for 'Circles Of My Life' that will be the circles of Lallys' life! Again, I made the tune and Lally vocalized 'Circles'.
Is it right that these two tunes got airtime on MTV and cables' Trouble?
Yeah that's right. We (DEA) made the videos ourselves. I mean we got the cameras, filmed, edited, everything we did ourselves. WE basically produced and directed. So MTV and Trouble took these videos and aired them to say 'look these guys are out there and trying'.
The Jerry Springer tune absolutely smacked it out there. Plus TV's Jerry Springer was large at the time. Any plans to pirate the 'Big Brother' theme off 'Oakie' for a white label? Or any other plans?
GREAT IDEA! It is a possibility, but I dunno? As for Jerry Springer, wicked tune. Thanks to 'Jerry' I wasn't 'Harry Lint' for Christmas!
OK, enough of the bog standard questions. What did you do last night?
Perry: Decorated my hallway!
Z: Any colour?
Perry: It's not a colour yet. It's kinda brass right now!
Para: Radio, Pub, errrmm? Went to a friends birthday drink and indulged a little!
What 3 words would you use to describe each other?
Para: BIG FAT PERVERT! Ha ha!
Z: Perry's big 'n' fat?!
Perry: Short Bald and Para. Yeah that's Para init?
Para: Pimp!
Z: What? Perry the Pimp, Pimp, Pimp?
Para: Ha! No! I mean, Music Sounding Better basically sums up our Pel.
Z: Great recovery!
Perry: M.S.B. Mad Sarcastic B**tard!
Para: Thanks Pel.
First Rave? And how old?
Perry: 15 @ Cloud 9 Vauxhall.
Para: I was 14 @ Laser Drome (Para then attempts a Drum 'n' Bass B-line hum)!
OK, what with all the commercialism of UK Garage today I have two straight to the point questions for you...
1) Poshs' Flex? -OR- Not on my Decks?
Para: Not on my ****ing decks man! Oops! I mean - Not on my decks.
Perry: Sorry but not on my decks! Nope. No way.
And finally the other...
2) Joyrider -OR- Bad Accident?
Para: JOYRIDER! Yeah that tune was initially underground so definitely. I say Joyrider.
Perry: Yeah likewise. Colour Girls 'Joyrider' is definitely on another level compared to a Spice Girl.
Z: Okay now it's my time. Big massive thanks to Perry and Para for answering my '20 Questions'. I should shout to all involved:
www.djpara.com - This site is nearly up and running. All about Para.
www.deaproject.com - Check this site out all you need to know about DEA.
www.msbproductions.com - A new site for a BAD new label. Music Sounding Better.
www.react-music.co.uk - Featuring a catalogue of all React Music. Including D'n'B, H'n'G. You can purchase music on line.
www.blackmarket.co.uk - An obvious site to check. The new site should be up and running shortly, with interviews from DJs such as Micky Finn and other well know professionals. Big Up The Spoon Man @ Azuli!
You can catch DJ Para Live on Upfront 99.3 FM early Tuesday evenings. Once again thanks to Para and Perry, out to you two.
Underground Forever XxX.
Twisted Individual
Grid / Formation
When did you get into Drum & Bass?
"As far back as i can remember.
How did you get picked up by Formation?
I was down music house one day cuttin wales and DJ SS was there. He asked me if he could cut it and said he may be interested in releasing it, we exchanged phone numbers and it took off from there. Nearly every thing i have done since then he has taken.
Have you been overseas and seen Drum & Bass being accepted?
I have just come back from Stockholm in Sweden and they have a nice little scene out there. It isn't that big yet, but those who are involved seem really dedicated. I am going to Germany and Finland in the next couple of months and America later on in the year.
What's your influence when producing, what other music do you listen to?
I like all sorts of music incuding R&B, Hip Hop and Jazz. I like to chill out to Jazz & Bass, i think it's a wicked album (hopefully i will have a track on Jazz & Bass 3) i also think Portishead make some good trax. I am influenced by people like Optical and Die.
What's currently playing in your car or walkman?
Jazz & Bass Sessions 2 and Portishead.
What were you doing before you got into production?
Working on a building site digging holes, getting wet and feeling cold, i have only just given the job up.
What's your plans, what else do you want to do?
Travel around the world playing beats, work with other artists, and i am just about to start working on an album. I have also just set my own label up called Grid and i hope for that to do well, featuring artist Zen, Pleasure, Rayner and myself.
Peace to Mrs Individual (Amie), Zen, TT Ace, Goodwill, Sonic & Accidental Heroes, APB, DJ SS, Eidris and all @ Formation, Rayner, Syrus, Chillum and all the Ruud Awakening 104.3 team, K.W, Dylan @ Alphamagic, Pleasure, Blind, Paul Rodriguez, Nicky2Smooth, Omni and all the Tandy team, and every one else."
Twisted Individual is on Ruud Awakening 104.3 in London every Friday at 10pm-12am

dj Diesel D
RawMission FM
How did you get into DJ'ing?
"I was 15 and my mate (T.Logik/Erotic 101.3fm) had a pair of Soundlab 1600's and i used to mess around on them, then he bought a pair of Soundlab DLP 3's and i learnt how to mix myself on those. When i was 17 i got my first set of decks, which were Technics 1210's. By the time i was 18 i was ready for pirate, so me and T.Logik went on Erotic 101.3fm together with the alias "DA VINYL DEMONS" playing garage, and was on 12-3am every saturday night.
Were you into Drum & Bass / Jungle before this?
Yeah i loved my jungle and i still do. Jungle is the music that got me deejaying!
What made you switch to Garage?
In 1997, Jungle was dying all the pirates started playing garage, Kool fm was never on. I would go Blackmarket Records and walk out buying nothing as i did not like the new Drum And Bass sound. Every club, bar or pub i went to was playing garage and it slowly grew on me. I think the first tunes i bought were Double 99 - RIP GROOVE, Rosie Gaines - CLOSER THAN CLOSE, etc.
You're now on RawMission, how did you manage to get on?
I was playing at Champagne Rain @ The Dome (FEB 11th 2000) with my krew, MC Sloth and Sly MC (AKA "DA EXECUTIVES") and the management of RAW was there and after our set asked us to go on RAW, SLY MC used to be on RAW back in the day, but decided to leave for personal reasons. We did a one off Tuesday 12-2am, and then was given our current slot of 10pm-12am, every sunday night. The station is now called RawMission 90.0 FM, as we merged with Mission Fm around the 16th of April and now are twice as big as we were.
You also play at lots of clubs, when was your first ever booking?
The first club i played at was an under 18's event at the Pleasure Rooms (Tottenham) called Detention in 1997. and played at another two after that. I was very nervous playing as i came on the decks after Nicky Blackmarket, so you can imagine what i was up against.
What's the best club you've played at?
Champagne Rain @ The Dome was probably the best as the crowd were having it, and it got pretty ram. Also it was my 20th birthday so it was more than just a set.
What about the worst?
Oxygen Bar (Leicester Square) i have never been to a club so small in my life, it could take about 100 capacity.
What's the maddest thing that's happened in a club?
I was playing at Parkers wine bar in Finsbury Park on the 6th August 1999, and was playing a heavy set and the crowd were going crazy and then there was a bang and the monitor speaker blew, the dj box was full of smoke. I had to finish my set with no monitor speaker, which ended up pretty sloppy.
Will you be DJ'ing overseas?
You might catch me out in Ayia Napa this summer, but not 100% yet!
You used to go to Barnet College in North London, did you meet any other dj's/mc's or any other people in the scene at that college?
I met MC GANJA at Barnet College, he is the man behind FLARE 89.6fm and also CASH MC who is on TIME 104.6fm
Is your new website up and running yet?
Na, my website is still in the pipeline at the moment as i have not had time to do it yet.
Who's your favourite DJ's / producers?
I have a few to name, which are Groove Chronicals, Zed Bias, Wookie and K Warren.
What's playing in your car or walkman at the moment?
The Battle - Wookie - Manchu recordings
Are you going to be in the studio, producing tracks?
Myself, MC SLOTH and SLY MC will be going to a studio very soon to get some tracks done, and get some dubplates pressed."
you can catch DJ Diesel D, MC Sloth and Sly MC (AKA Da Executives) every Sunday night 10pm-12am on RawMission 90 FM. also look out for JLT Promotions in the summer and the forthcoming RawMission events.
contact / bookings / mailing lists: 07956 104 417 email: djdieseld@yahoo.com
Bally Sagoo
Ishq Records
How did you get into DJing / remixing?
"I got into the dj remixing from my school days - from the age of 12 i used to be constantly into my music, my mum and dad are musically minded so i grew up with music in my home 24/7. I had no interest in studying and would concentrate on making mix tapes for my friends. Most of my friends were black and this is where my influence came from as we were constantly into the black music scene of that time. After experimenting with a few Indian tunes (which at that time i had no interest in) i noticed that 'hey Indian music doesn't sound so bad when it has a heavy bassline behind it!' And it all carried on from there, i took my mixes to a label called Oriental Star Agencies (OSA) who immediately took to it. I later on became the in-house producer for OSA for a few years where eventually Sony Music noticed my potential, for whom i produced Bollywood Flashback and Rising From The East. This gave me the stepping stone to setting up my own recording studio and record label (ISHQ RECORDS) where i produce music full time and am promoting new artists.
What do you think of the Asian scene in the UK?
The music scene in the UK is getting better - new artists/producers are coming along and there are some good songs coming out. It's not been consistent, it's had its good times and bad times but i suppose that's with any kind of music. But in respect our music is making noise for Asians and that is what's important.
...and what about worldwide?
The worldwide scene is getting more interesting. I listen to a lot of music and receive loads of demos from around the world. I have a team of staff who put forward anything that is different or worth listening to. It's a thriving musical world, and there is so much talent all around this universe. Asian music reaches everywhere and it's not just Asians that listen to it. I personally feel that musically we as Asians are gonna make an impact on the mainstream music scene... it's only a matter of time. I still am living proof that Asian music can enter the billboard charts 'Dil Cheez' at No.12 in the UK Charts. As more new and productive artists will come out this year and make noise for us as a nation. It's not gonna be a phase any more - we are standing our ground and are here to stay - it's cool to be Asian right now! This is the sole reason why i have set up my record label Ishq Records to search for such talent - it's out there, but they just need a chance.
What's playing in your car at the moment?
Q-Tip's album and the track is 'Breathe N Stop'.
What are you working on now?
At the moment i am heavily involved in the promotion of my new album Bollywood Flashback II (BFII), we just released a single off the album called 'Noorie' - it's doing really well here in the UK, non stop play on radios and was also sold out in the shops on the first day of release! I just returned from India a few days ago where the video shoot was taking place for 'Noorie' - the video should be ready by 1st week of March. So for the next two months my timetable is just totally taken over by BFII right now. Once this is all over, i have signed on a few artists and that will be my project for the next 6 months.
Future plans?
My future plans are to promote the artists i have signed and continue to make good music. Like i said before, we are gonna make noise this year, just watch this space!
Who would you like to work with?
I would love to work with Lata Mangeshkar - it would be a dream come true!
Where were you on New Year's Eve? what did you do?
New Years Eve, i told everyone i was out of the country so i would not get disturbed, switched off my mobile phone and stayed at home with my family.
And lastly...
Anybody who feels they have potential, can sing/rap/produce or remix - send your demo to Ishq Records, you can get all details from www.ishqrecords.com
We are also compiling a DJ Mailing List so, if you are a dj please email us all your contact details. Also DJ's please note that i have produced a cd called 'Sagloops' it's a dj tool with Bhangra loops available on cd and vinyl, it's a tool no dj should be without! check out the website for more details and also how to join the fan club.
And as always play it loud 'n' proud and keep up the support!"
mr Montana
Laff-A-Lot Records / The Big FM
Your favourite DJ's / producers?
"My favourite producers would have to be Prince Paul (he's so original and yet many people don't even credit him for his work), Primo (nuff said - a consistent and original producer - arguably the best), Marly Marl (another originator - one of the greatest), Dr Dre (he's made so many careers with his mixture of clever beat jackin and instrumental arrangements), RZA (made beats that forced you to hit rewind as soon as you heard em - i take massive inspiration from the way he refused to conform and could make ya head nod from loopin a tiny sample from a film or hookin up a bassline with a broken loop that'd make you laff it was so sick). I could go on for hours but they're the first few that come to mind.
The maddest thing that happened at a club?
I got searched at the door and pounced on by EVERY member of security for a can of deodorant in my bag. They thought it was a gun or sometin' but i got rushed down the stairs, i thought i was gonna get slammed, serves me right for goin to these kind of clubs.
All time favourite tune?
That's a real hard one, so many, it'd be a toss up between "Rapper's Delight" and "Nuttin But A G Thing". Both monumental tracks that i can play over and over again and never tire of.
What's playing in your car / walkman at the moment?
At the moment i'm rockin the Mos Def album in my walkman and in my jeep i'm droppin all types of stuff, Dr Dre's new album, some U God and Ghostface tracks, a lot of Cash Money and down south stuff, also the new Nas joints produced by Primo.
How did you get into DJing / Hip Hop?
I got into hip hop/DJing thru my parents i think. Ever since i was little they'd always be playin records in the house like James Brown, Temptations, Aretha Franklin and all the Tamla stuff so i suppose i just grew up listenin to those beats. I was encouraged to record stuff and create tapes with basic equipment since i was 7, today i do exactly the same thing, only with mixing boards and more expensive equipment.
What do you think of the Hip Hop scene in UK?
It's shyite. No ONLY KIDDIN! The hip hop scene in the UK is stronger now than it has been in several years, but the major problem remains. There's some amazin tracks out there but not everyone gets a chance to hear them. Only Westwood can really push quality UK hip hop to the masses and, to his credit, he is attempting to do so. Yet the UK acts still only get the final half hour at 1:30 in the morning and NO quality UK hip hop gets daytime airplay on any main radio station, unless it's got that R&B feel. Perhaps if Westwood left out some of that appallingly shyite RAP MUSIC (like Ruff Riders, DMX and that whole 'bandwagon' jumpin scene) from his Friday slot, they'd maybe be a bit more time for the UK hip hop to shine.
Future plans? production, etc?
Right now I'm planning a worldwide web-based pirate station that will cater for all musical tastes, from hip hop to hardcore and beyond. Running live shows with full webcam facilities and online competitions, i hope that this station will signify a new dawn in underground radio. No longer will we have to worry about signal quality etc, this form of pure, raw, gritty bedroom style pirate will hopefully reach out to all those who want to hear THEIR favourite underground music, without censors or broadcast restrictions. I am also working on a lot of hip hop production on my own label, LAFF-A-LOT RECORDS. I've completed two double albums and am now trying to shop some major deal, with about another 4 albums in the pipeline. I don't want to sound arrogant in anyway but this stuff I've just done is breathtakin'. You've all got to hear it. Come check it out when I get the station up and runnin.
Where you gonna be at on New Years Eve?
At the moment, the only place I want to be on New Years Eve is in the studio. I know it sounds romantic, but to me it sums up how i feel about this whole Millennium bizznizz. I'm not payin those prices!
Anything else you wanna say to the solidPulse.net visitors?
First of all you've made the right choice, secondly if there's any rappers / producers / DJs who are making class A product in the UK but no one's listening OR you think you've got some dope ideas, whether it be lyrics or beats, and want to be down with LAFF-A-LOT RECORDS then send a quick demo tape of any quality to:
EAST WEST COTTAGE, HEADON, RETFORD, NOTTS, DN22 ORD.
Tel: 0860 939 429
All tapes will be replied to asap but be sure to include some contact details. Together we'll push not only UK hip hop, but HIP HOP herself forward. Alrite. Sease 2000."
Mr Montana is on The Big FM 107.7 in Sheffield, each n every Sunday at 12pm-4pm.

dj Miley
One Night Stand @ Gass Club / Klass FM
Who's your favourite DJ's and producers?
"Norris Da Boss, and my favourite producers Groove Chronicles, Zed Bias and Distant Soundz.
Best gig you've played at?
Hard to say there's been so many! But i've had some top nights @ The Gass (London), Bagleys, and a top night was New Years Eve 2 years ago @ Hollywoods in Ipswich.
Worst gig?
Cellar Bar in Romford, what a dive!
The maddest thing happened at a gig?
When i was booked to play in the Garage room @ Hollywoods one New Years Eve, and the decks went down in the Main House arena, so they wired my set in to the main arena, and i didn't even realise i was playing to all three rooms!
Ever played abroad?
Tenerife this year. More Housey with lots of lager lads! Next year i'm out in Aiyanapa.
All time favourite tune?
Hard to say, but possibly Shades Of Rhythm, Sound Of Eden, or Kariya baby let me love u for tonight!
What's playing in your car at the moment?
I like to obviously check what's happening pirate wise, but i quite like to listen to a bit of R&B/Slowjams / Hip Hop when driving about.
How did you get into DJing?
I saw a DMC mixing championship on telly when i was about 14, and got some decks for christmas, also my old man was involved in club promotions back then and the dj's who worked for him used to give me all the latest Acid House / Chicago House tracks.
Were you into Drum & Bass / Jungle before?
Yeah i was into Drum & Bass for years! Running several Jungle stations back then, and worked in a local Jungle record shop, also did a track with my brother called X-Files which was pretty big back in 95. It was about 95 i found myself buying more Garage than Drum & Bass, then i decided it was time to switch completely, even though everyone thought i'd gone mad! Now most those piss takers have all jumped on the Garage bandwagon now, but some of my old crew - Frenzic, is still running Jungle magazine Atmosphere and Sinister ID's now on Kool FM, big up them boys for stickin to their guns!
Future plans? / production?
Current release Distant Soundz, Memories VIP, Ready2Rumbal out now. Hope to push Distant Soundz into the millennium and beyond! Also continue battle with DTI to keep Klass 91.6 FM on the air! And hope to be promoting some more Garage events in Essex.
Where you gonna be at on New Years Eve?
Too many Tenants Supers! I could be anywhere!"
you can catch DJ Miley on Klass 91.6 in Essex - Saturday morning Bad Boy Breakfast 9am-12pm, and at The Gass Club - One Night Stand.
DJ Miley / Distant Soundz Records: 07050 119 539